DICK WHITTINGTON
To find out more information from our show archives, please use the links below.
Poster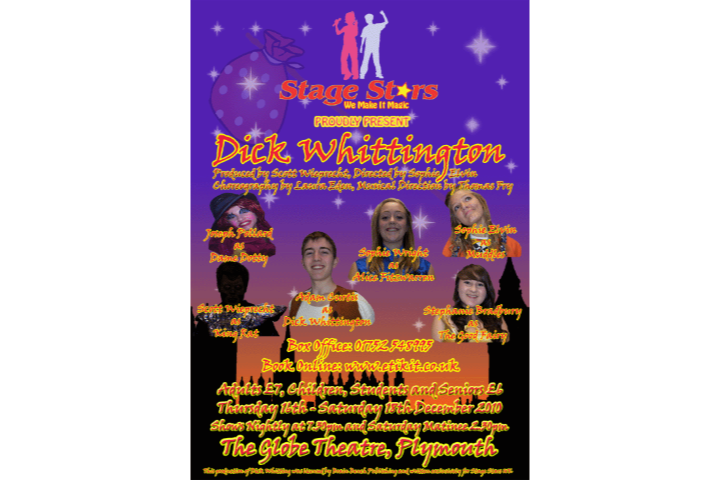 Synopsis
DICK WHITTINGTON - SYNOPSIS
Once again writer Scott Wieprecht brings this age old pantomime fairy tale to life full of brand new twists, turns and characters. Dick has made for London to find his fortune but when he gets there he has no luck and so he decides to return to Plumouth. On the way however he bumps in to a fairy who predicts his fortune lies in London Town. After meeting Alice and Fitwaren, Dick finds he now has a job and a girl who he has fallen in love with. Things start looking up and Dick and his new pet cat Tommy seem to be settling in.
Unfortunately things dont go to plan and the evil King Rat soon has a hand in Dicks undoing planting a golden necklace Dick was meant to be looking after in his pocket to make it look like he stole it. Dick is thrown out and all looks lost until the fairy once again persuades him to return and prove his innocence, the only problem is they are about to set sail on a boat and Dick must stow aboard. After the ship they are on is in a terrible storm, everyone is sunk and only with the help of the fairy can they once again get to dry land where they are met by the Sultan of Moroco.
This however is problematic as King Rat turns up and challanges Dick to a fight, but with some last minute training from a mystery guest can Dick save the day... all will be revealed in Dick Whittington 2010 .
Music
DICK WHITTINGTON - MUSICAL NUMBERS
Act 1 
1. Wake Up boo 
2. Could It Be Magic 
3. Your Beautiful 
4. Be Prepared
5. Canned Heat 
6. Endless Love 
7. What Is This Feeling 
8. Where Are You Now
9. In The Navy 
10. Go The Distance 

 
 
Act 2
10. Holding Out For A Hero 
11. Because Of You 
12. Under The Sea 
13. Shakalaka Baby 
14. Eye Of The Tiger 
15. Im A Believer 
16. Thankyou For The Music
Cast
DICK WHITTINGTON - CAST LIST
Dick Whittington – Adam Curtis
Alice Fitzwarren – Sophie Wright
Sarah The Cook – Joseph Pollard
King Rat – Scott Wieprecht
Muddles – Sophie Elvin
Spirit – Stephanie Bradbury
Fitzwarren – Thomas Fry
Tommy – Laura Eden
Dilly – James Moar
Dally – Sophie Squires
Nip – Becky Woodcock
Fang – Jessica Trevarthen
Witchdoctor – Melissa Brockelsby
Sultan – Lauren Haly
Peppar – Emily Trevarthen
Crew
DICK WHITTINGTON - CREW LIST
Producer - Scott Wieprecht
Director - Sophie Elvin and Kirsty Wieprecht
Choreographers - Laura Eden with Scott Wieprecht 
Musical Director - Thomas Fry 
Stage Manager - Dawn Pearse
Stage Team - Derek Pearse
Lighting Designer - Kirsty Wieprecht
Sound Designer - Luke Pollard
Pictures
PICTURES
Stage Stars has now moved all pictures from previous show, events and trips to one main gallery for ease of use and to make the ever growing library of images more managable. The benefits of this are:
*All pictures can be viewed at the same time without having to go to each different show page
*Pictures can all be formatted in the same way and quality improved
*We can add new galleries such as rehearsals and your pictures easily
*You can upload your own pictures for us to include in the gallery
*We can help protect our members images and restrict downloading of pictures
To view our show pictures please use the menu above and select galleries. You can also purchase images from all our shows at our dedicated show shop www.mediabooth.co.uk.
Downloads
DOWNLOADS
With the hundreds of previous show downloads, including pictures, programmes, and music, along with all our newsletters, information and general downloads, we have made the decision on our new site to move all our downloads in to one place. To access our downloads section, along with a number of other extra features, you need to be a member of Stage Stars. Then, just click on the 'Back Stage' menu option above to login, and view a special area of our website, especially for you.
Press
PRESS RELEASES
All our press releases and articles about us that have appeared in the paper are now all in one place. To access them, use the "About Us" menu above, and click on Press Centre.