RATTITUDE
To find out more information from our show archives, please use the links below.
Poster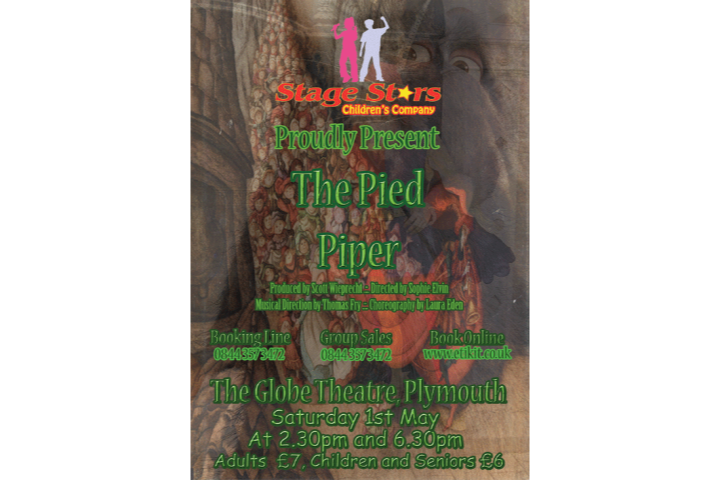 Synopsis
RATTITUDE - SYNOPSIS
Based on the traditional tale of the 'Pied Piper of Hamelin' this lively musical brings the story right up-to-date in a fun and entertaining way, but with a clear and relevant message. Beautiful melodies, catchy rhythms and part-singing make this musical really enjoyable for all ages!
Given a fresh twist by the Stage Star staff to include the appearance of the Rat Pack, a gang of rats leading the attack on Hamlyn this show is fun for all the family.
Music
RATTITUDE - MUSICAL NUMBERS
Act 1 
1. Way Back In Hamelin 
2. Moaning Song
3. Long Ago 
4. The Mayor's Song 
5. Pied Piper's Song 
6. Celebration Song
7. The Rat Pack 
8. Fat Ones, Thin Ones 

 
 
Act 2
9. A Hundred Silver Pieces 
10. No Deal! 
11. Get Out Of Town
12. The Piper's Threat 
13. Our Children Have Gone Away 
14. What A Dream 
15. We Have Learned A Lesson
Cast
Crew
RATTITUDE - CREW LIST
Producer - Scott Wieprecht
Director - Sophie Elvin
Choreographers - Laura Eden
Musical Director - Thomas Fry 
Stage Manager - Sophie Elvin
Lighting Designer - Kirsty Wieprecht
Pictures
PICTURES
Stage Stars has now moved all pictures from previous show, events and trips to one main gallery for ease of use and to make the ever growing library of images more managable. The benefits of this are:
*All pictures can be viewed at the same time without having to go to each different show page
*Pictures can all be formatted in the same way and quality improved
*We can add new galleries such as rehearsals and your pictures easily
*You can upload your own pictures for us to include in the gallery
*We can help protect our members images and restrict downloading of pictures
To view our show pictures please use the menu above and select galleries. You can also purchase images from all our shows at our dedicated show shop www.mediabooth.co.uk.
Downloads
DOWNLOADS
With the hundreds of previous show downloads, including pictures, programmes, and music, along with all our newsletters, information and general downloads, we have made the decision on our new site to move all our downloads in to one place. To access our downloads section, along with a number of other extra features, you need to be a member of Stage Stars. Then, just click on the 'Back Stage' menu option above to login, and view a special area of our website, especially for you.
Press
PRESS RELEASES
All our press releases and articles about us that have appeared in the paper are now all in one place. To access them, use the "About Us" menu above, and click on Press Centre.