REALITY
To find out more information from our show archives, please use the links below.
Poster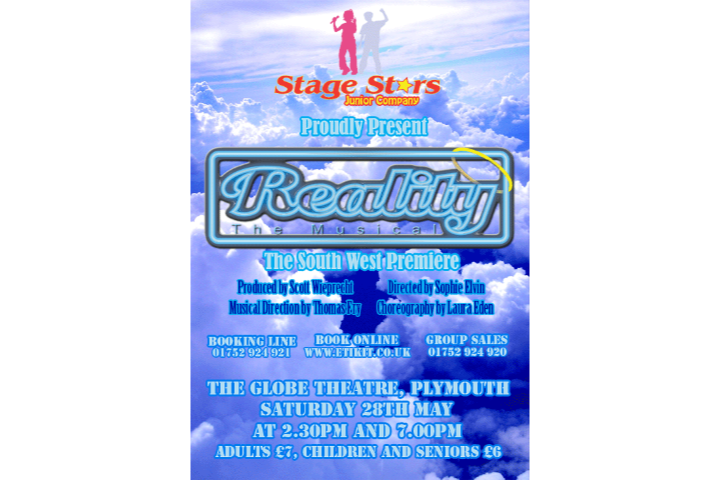 Synopsis
REALITY - SYNOPSIS
Inspired by the modern preoccupation with life-changing game shows and reality TV, this musical explores a world obsessed with fame and the quick fix solution of an instant win. Count the catch phrases, as the game show's comic hosts treat the studio audience to a very special show. Share in the journey of a lifetime as 'The Reality Game' goes in search of a contestant willing to change everything for a chance to win a new life.
Moving between the real world, a London station and the reality game we encounter a variety of characters trying to find their way through life, with one desperate to find a short cut to the top. Through the magical world of 'Reality' he is presented with the chance to be a contestant on tonight's show and win the opportunity to walk through time and leave his past behind. But of course the choice before him is not as easy as it seems as the life he longs for brings its own complications: and remember the audience has the final vote.
Music
REALITY - MUSICAL NUMBERS
Act 1 
1) Welcome To Reality 
2) Working Solid 
3) All In A Spin 
4) Fresh Beginning 
5) Early Morning 
6) Real Life Drama 
7) Me, Me, Me
8) Easy Money
9) All In A Spin 
10) Early Morning (Reprise)
11) If I Could Walk Through Time

 
 
Act 2
12) Entr'acte 
13) Skyline
14) Choose It 
15) What Should I Say
16) Sunrise Girl 
17) Love Lost
18) A Girl Like You
19) Me, Me, Me
20) All In A Spin (Reprise)
21) Early Morning (Reprise) 
22) In Or Out Of Love 
23) Calls & Playout
Cast
REALITY - CAST LIST
Dale: Joseph Pollard
Les: Bogi Georgiev
Peter: David Scawn
Ad Girls 1&2: Laura Eden and Scarlett Pannell
Billie: Sophie Squires
Nick: Jack Best
Lisa: Becky Woodcock
Jim: Owen Bush
Nigel Palmer: Max Pannell
Girls 1, 2 & 3: Estella Zernosekova, Naomi Elvin, Rosie Perryman
Angela: Alex Easterbrook
Bruce: Lewis Bladen
Sloth: Fiona Sheppard
Averice: Jessica Hall
Lust: Jessica Morcom
Anger: Emily Trevarthen
Envy: Ellie Lunnon
Pride: Leta Crisp
Mortal Sin: Lauren Fairchild
Glutony: Emma Legg
Big Issue Seller: Olivia Blanchette
Nick's Hustlers 1&2: Noah Bottrell and Jonathon Dunn
Film Crew 1&2: Lauren Fairchild and Emma Legg
Boyfriends, 1,2 & 3: Noah, Jonathon Dunn and Lewis Bladen
Policeman: Amber Sheppard
Policewoman: Leta Crisp
Aunt Edith: Evy Spinou-Whiteley
Famous Footballer: Noah Bottrell
Crew
REALITY - CREW LIST
Producer - Scott Wieprecht
Director - Sophie Elvin
Choreographers - Laura Eden
Musical Director - Thomas Fry 
Stage Manager - Sophie Elvin
Lighting Designer - Kirsty Wieprecht
Sound Designer - Luke Pollard
Pictures
PICTURES
Stage Stars has now moved all pictures from previous show, events and trips to one main gallery for ease of use and to make the ever growing library of images more managable. The benefits of this are:
*All pictures can be viewed at the same time without having to go to each different show page
*Pictures can all be formatted in the same way and quality improved
*We can add new galleries such as rehearsals and your pictures easily
*You can upload your own pictures for us to include in the gallery
*We can help protect our members images and restrict downloading of pictures
To view our show pictures please use the menu above and select galleries. You can also purchase images from all our shows at our dedicated show shop www.mediabooth.co.uk.
Downloads
DOWNLOADS
With the hundreds of previous show downloads, including pictures, programmes, and music, along with all our newsletters, information and general downloads, we have made the decision on our new site to move all our downloads in to one place. To access our downloads section, along with a number of other extra features, you need to be a member of Stage Stars. Then, just click on the 'Back Stage' menu option above to login, and view a special area of our website, especially for you.
Press
PRESS RELEASES
All our press releases and articles about us that have appeared in the paper are now all in one place. To access them, use the "About Us" menu above, and click on Press Centre.