STRANGERS
To find out more information from our show archives, please use the links below.
Poster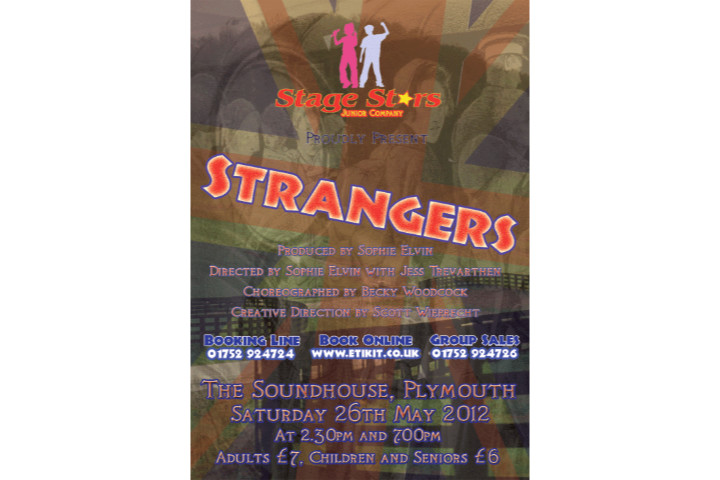 Synopsis
STRANGERS - SYNOPSIS
Strangers tells the tale of love, lies and longing. When the bombs began to land, the children had to leave, and not all their experiences were the same. Join Evie, her brother Billy, and love interest Peter as they find out what being an Evacuee really meant in on of the most emotionally charged musicals of recent years.
Strangers has only ever visited the South West once before, in 2009, when it was also put on by Stage Stars. 'Strangers' is written by Darren Vallier, Richard Lindfield, Rob Sweetman and Michael James. It sensitively portrays the life, loves and sacrifices made during World War II as children were evacuated to distant towns across the country. 'Strangers' was showcased in London to critical acclaim.
Music
STRANGERS - MUSICAL NUMBERS
Act 1 
1. One Mistake/In My Mind
2. You've Got To Be Labelled
3. Journey Of A Lifetime
4. Buggered
5. We'll Take This One
6. Home Sweet Home
7. Not One Of Us
8. To A Safer Place
9. In The Arms Of Strangers

 
 

Act 2
10. A Place For Everything
11. A Simple Man
12. Stronger
13. Love's Not Fair
14. The Weight Of The World 
15. This Is The Land
16. Nothing/I Will Go
17. One Mistake
Cast
STRANGERS - CAST LIST
Evie Gander – Alexandra Easterbrook
Billy Gander – Owen Bush
Peter Kesselman – Bogi Georgiev
Eve Collins – Naomi Elvin
Her Ladyship – Rosie Perryman
Cheadle – Abbie Burrows
Ted Duval – Joseph Pollard
Violet Gander – Leta Crisp
Jack Earnshaw – David Scawn
Rose Earnshaw – Emily Trevarthen
Colonel Sprake – Noah Bottrell
Beverly – James Peek
Jill Collins – Katie Elvin
Charlie Earnshaw – Noah Bottrell
Freida Kesselman – Estela Zernosekova
Otto Kesselman – Jonathan Dunn
Man From The Ministry – Fiona Shepherd
WVS Lady – Emma Legg
Mrs Doughty – Abigail Griffiths
Mrs Hazel – Jade Abbott
Mrs Brown – Emma Roberts
Mrs Avery – Bryony Rogers-Hulme
Constable – Jonathan Dunn
Kid 1 – Ellie Lunnon
Kid 2 – Chanelle Eden
Kid 3 – Jessica Hall
Kid 4 – Jacob Blatchford
Crew
STRANGERS - CREW LIST
Producer and Director - Sophie Elvin 
Choreographers - Becky Woodcock

Sound Designer - Luke Pollard
Lighting Designer - Scott Wieprecht
Pictures
PICTURES
Stage Stars has now moved all pictures from previous show, events and trips to one main gallery for ease of use and to make the ever growing library of images more managable. The benefits of this are:
*All pictures can be viewed at the same time without having to go to each different show page
*Pictures can all be formatted in the same way and quality improved
*We can add new galleries such as rehearsals and your pictures easily
*You can upload your own pictures for us to include in the gallery
*We can help protect our members images and restrict downloading of pictures
To view our show pictures please use the menu above and select galleries. You can also purchase images from all our shows at our dedicated show shop www.mediabooth.co.uk.
Downloads
DOWNLOADS
With the hundreds of previous show downloads, including pictures, programmes, and music, along with all our newsletters, information and general downloads, we have made the decision on our new site to move all our downloads in to one place. To access our downloads section, along with a number of other extra features, you need to be a member of Stage Stars. Then, just click on the 'Back Stage' menu option above to login, and view a special area of our website, especially for you.
Press
PRESS RELEASES
All our press releases and articles about us that have appeared in the paper are now all in one place. To access them, use the "About Us" menu above, and click on Press Centre.