THEIR SCARVES WERE RED
To find out more information from our show archives, please use the links below.
Poster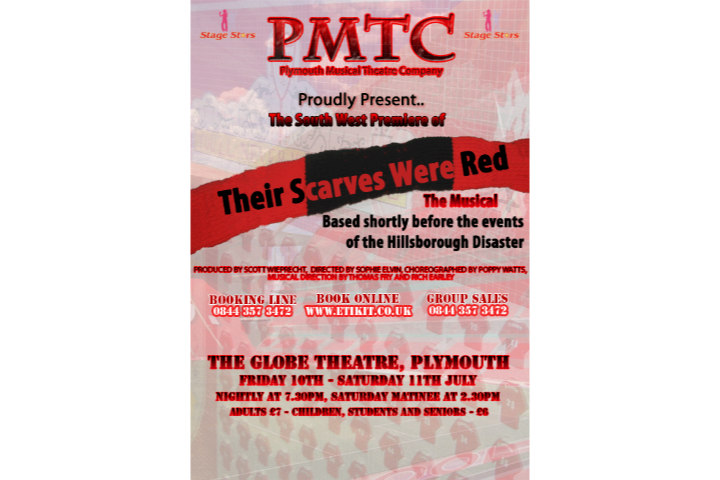 Synopsis
THEIR SCARVES WERE RED - SYNOPSIS
A brilliant and emotional musical based on the terrible events of the Hilsborough disaster. Following a group of friends and the events that unfold to lead to one of them being crushed to death this is a piece of theatre history and not to be missed. With some of the best music to hit the stage this show is a must see and is guaranteed to give you a great night out.
"Telling the story of the fateful Hillsborough disaster by cleverly singling out a young football fanatic and his friend, this musical takes the audience on an emotional journey that grips as the build-up to the deadliest stadium-related disaster in British history occurs. Yes, there are some comical moments as the personalities of the different characters are expressed but all in all, this is a powerful piece of theatre."
Music
THEIR SCARVES WERE RED - MUSICAL NUMBERS
Act 1 
1. Overture 
2. 96 Reasons Why 
3. I Am Me 
4. Saturday Dreamer 
5. Bloody Football 
6. I Believe In You 
7. Perfect Days 
8. Give Her Time 
9. Big Hair 
10. Saturday Dreamers 
11. Anyone Can Dream



 
 

Act 2
12. All The Freaks Area Here 
13. Be Yourself 
14. You Know I Miss You 
15. Have I Finally Found Someone 
16. You Never Listen 
17. I am me 
18. I've Been Waiting All My Life 
19.Their Scaves Were Red
Cast
THEIR SCARVES WERE RED - CAST LIST
The Steward: Sophie Elvin                      
Daniel Grice: Scott Wieprecht
Barry Whibley: Joe Pollard
Mr Grice: Ben Hardy
Mrs Grice:Becky Woodcock
Chloe: Jess Trevarthen
Chloe's MumFiona Shepherd
Chloe's Stepdad: Owen Bush
Debbie (ex-girlfriend): Mia Ward-Edwards
Doctor: James Peek
Granddad: Noah Bottrell 
Teacher: Jade Abbott
Pastie Fan: Jonathan Dunn
Sue: Abbie Burrows 
Cherise: Hannah Lambert
Claire: Nicole Couch
Donna: Jacob Blatchford
Client: Katie Thorne
Hairdresser Assistant: Scott Chatfield
Old Man: David Scawn
Pop Girls (soloists): Rosina Ruth, Rosie Young, Emily Trevarthen, Amber Wheeler
Crew
THEIR SCARVES WERE RED - CREW LIST
Creative Director - Scott Wieprecht
Director - Sophie Elvin 
Choreographer - Scott Wieprecht 
Musical Director - Simon Elvin
Pictures
PICTURES
Stage Stars has now moved all pictures from previous show, events and trips to one main gallery for ease of use and to make the ever growing library of images more managable. The benefits of this are:
*All pictures can be viewed at the same time without having to go to each different show page
*Pictures can all be formatted in the same way and quality improved
*We can add new galleries such as rehearsals and your pictures easily
*You can upload your own pictures for us to include in the gallery
*We can help protect our members images and restrict downloading of pictures
To view our show pictures please use the menu above and select galleries. You can also purchase images from all our shows at our dedicated show shop www.mediabooth.co.uk.
Downloads
DOWNLOADS
With the hundreds of previous show downloads, including pictures, programmes, and music, along with all our newsletters, information and general downloads, we have made the decision on our new site to move all our downloads in to one place. To access our downloads section, along with a number of other extra features, you need to be a member of Stage Stars. Then, just click on the 'Back Stage' menu option above to login, and view a special area of our website, especially for you.
Press
PRESS RELEASES
All our press releases and articles about us that have appeared in the paper are now all in one place. To access them, use the "About Us" menu above, and click on Press Centre.