DANNY HERO
To find out more information from our show archives, please use the links below.
Poster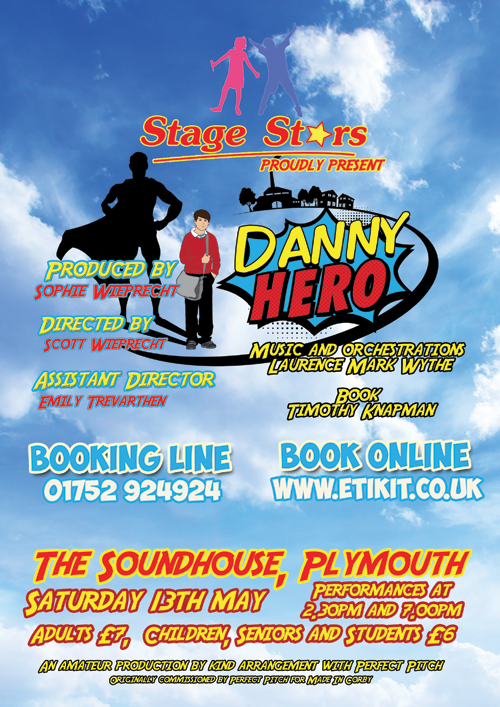 Synopsis
DANNY HERO - SYNOPSIS
Danny Hero is the story of 15-year old teenager Danny McIntyre.  Danny McIntyre lives with his mum, Sheila. But where Danny truly lives is in his head – in a wonderful, colourful fantasy world where he is a powerful superhero sent to Earth from space to defend the human race and fight for all that is true and just. The schoolboy that everyone sees each day, lost in his own little world of comic books and stories, is a brilliant disguise to protect his secret identity! Things happen to Danny until the moment when he finds the strength inside himself to face a real threat in the real world – and save his community and the people closest to him.
This will be the South West premiere of this brand new musical.
Music
DANNY HERO - MUSICAL NUMBERS
ACT 1
1. OVERTURE
2. THE END OF THE WORLD 
3. REPORT FROM EARTH 
4. SOMETIMES 
5. WEIRD 
6. EVERYTHING WAITS 
7. ANDY'S MEMORY 
8. THE TOWN HALL 
9. BOOMTOWN 
10. SECOND REPORT 
11. SOMETIMES (REPRISE #1) 
12. WEIRD REPRISE/THE PLAN 
13. ANOTHER ADVENTURE 
14. DANNY'S FANTASY
15. THE PLAN (REPRISE) 
16. SILLY THINGS 
17. MAN OF STEEL

 
 

ACT 2
18. ENTR'ACTE 
19. A BRIGHTER TOMORROW 
20. REAL 
21. MAD 
22. IF WE BELIEVE 
23. JUST ANOTHER KID 
24. A VERY GOOD CAUSE 
25. BRAVE 
26. SOMETIMES (REPRISE #2) 
27. THE FINAL BATTLE 
28. MAN OF STEEL (REPRISE)
29. BOWS
Cast
DANNY HERO - CAST LIST
Danny McIntyre                                 Kameron Coll
Andy                                                   Amber Wheeler
Lee                                                      Lewis Isaacs
Tony                                                    Dan Carwithen
Councillor Mellish                              Brianna Williams
Goth Boy                                            Katie Hammond
Voice                                                   Jade Abbott
Sheila                                                  Rosie Young
Kyra                                                    Katie Byrne
Sasha                                                  Caitlin Hutchinson
Harriet                                                Rosina Ruth
Abigail                                                 Katie Elvin
Miss Blake                                         India O'neill
Snow                                                   Mia Elliott
Weston                                               Jasmine Stewart
Meera                                                 Megan Cornish
Diane                                                 Beth Blake
Carmen                                               Summer Hamblin
Sam                                                    Aimee Field
Bobby                                                Jade Preshous
Jaz                                                       Jasmine May
Darren                                                Ailish Field

Citizen 1                                              Ella Cornish 
Citizen 2                                              Chloe Byrne
Citizen 3                                              Abby Wills
Citizen 4                                              Caitlin Owen

Lara                                                       Kaitlin Field
Anya                                                      Maddie Pedrick
Maisy                                                    Leila Younger
Kenzie                                                    Grace Willsher
Steph                                                      Ruby Elliott
Gemma                                                  Niamh Bond
Tanya                                                      Daisy Williams
Demi                                                        Daisy Stephens
Morgan                                                   Ayla Milling
Britney                                                    Tilly Luxton
Crew
DANNY HERO - CREW LIST
Producer - Sophie Wieprecht
Creative Director - Scott Wieprecht
Assistant Director - Emily Trevarthen

Sound Designer - Noah Bottrell
Lighting Designer - Scott Wieprecht
Pictures
PICTURES
Stage Stars has now moved all pictures from previous show, events and trips to one main gallery for ease of use and to make the ever growing library of images more managable. The benefits of this are:
*All pictures can be viewed at the same time without having to go to each different show page
*Pictures can all be formatted in the same way and quality improved
*We can add new galleries such as rehearsals and your pictures easily
*You can upload your own pictures for us to include in the gallery
*We can help protect our members images and restrict downloading of pictures
To view our show pictures please use the menu above and select galleries. You can also purchase images from all our shows at our dedicated show shop www.mediabooth.co.uk.
Downloads
DOWNLOADS
With the hundreds of previous show downloads, including pictures, programmes, and music, along with all our newsletters, information and general downloads, we have made the decision on our new site to move all our downloads in to one place. To access our downloads section, along with a number of other extra features, you need to be a member of Stage Stars. Then, just click on the 'Back Stage' menu option above to login, and view a special area of our website, especially for you.
Press
PRESS RELEASES
All our press releases and articles about us that have appeared in the paper are now all in one place. To access them, use the "About Us" menu above, and click on Press Centre.