THE BATTLE OF BOAT
To find out more information from our show archives, please use the links below.
Poster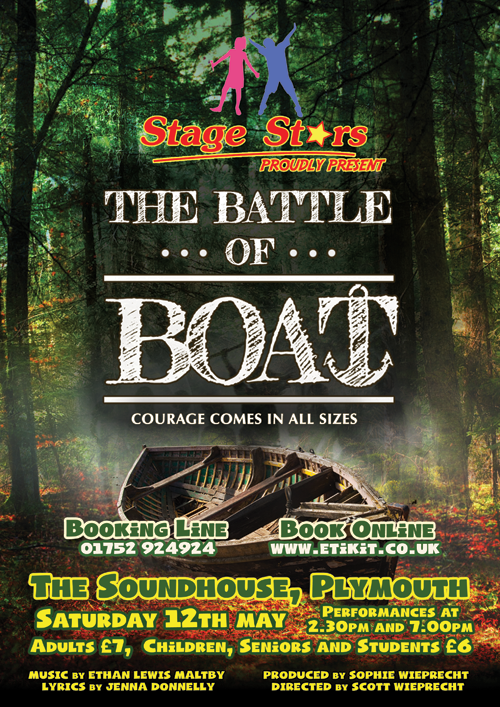 Synopsis
THE BATTLE OF BOAT
- SYNOPSIS
The Battle Of Boat is an original musical by composer Ethan Lewis Maltby and lyricist Jenna Donnelly. Set during WW1, it follows the adventures of a group of children trying to find their place in a world at war. Heartwarming, funny, emotional and exciting, the musical is performed entirely by children aged 8 to 18.
This will be the South West premiere of this brand new musical.
Music
THE BATTLE OF BOAT - MUSICAL NUMBERS
ACT 1
1. OVERTURE
2. THE END OF THE WORLD 
3. REPORT FROM EARTH 
4. SOMETIMES 
5. WEIRD 
6. EVERYTHING WAITS 
7. ANDY'S MEMORY 
8. THE TOWN HALL 
9. BOOMTOWN 
10. SECOND REPORT 
11. SOMETIMES (REPRISE #1) 
12. WEIRD REPRISE/THE PLAN 
13. ANOTHER ADVENTURE 
14. DANNY'S FANTASY
15. THE PLAN (REPRISE) 
16. SILLY THINGS 
17. MAN OF STEEL

 
 

ACT 2
18. ENTR'ACTE 
19. A BRIGHTER TOMORROW 
20. REAL 
21. MAD 
22. IF WE BELIEVE 
23. JUST ANOTHER KID 
24. A VERY GOOD CAUSE 
25. BRAVE 
26. SOMETIMES (REPRISE #2) 
27. THE FINAL BATTLE 
28. MAN OF STEEL (REPRISE)
29. BOWS
Cast
THE BATTLE OF BOAT
- CAST LIST
THE DEFENDERS
FRANCES MILLER – Megan Cornish
PETER 'BEAGLE' GRIMBLE – Lewis Isaacs
WILLIAM MILLER – Dan Carwithen
JACK RIDLEY – Jasmine May
FELIX TURNER – Zara Dibor
GLADYS DIXON – Anya Cook
SYBIL LANE – Brianna Williams
FLORENCE CHAPMAN – Chloe Byrne
JAMES 'JIMMY' BIGGS – Scarlett Smith
IVY – Lily-Mae Stock
EDWIN – Maddie Pedrick
RALPH – Ruby Brooks
BENJAMIN – Ruby Elliott
KENNETH – Grace Willsher
ELSIE – Leila Younger
WINIFRED – Niamh Bond
PATRICK – Lea Slade
MABEL – Amelia Middleton-Nunn
DOROTHY – Ayla Milling
EVELYN – Daisy Stephens
LAURENCE – Caitlin Owen
JOSEPHINE – Aimee Field
BESSIE – Liola Davari-Evans
GRIPPERS GANG
LESLIE 'GRIPPER' WOOD – Katie Elvin
ALFRED 'ALFIE' MARSTON - India O'Neill
ROYSTON 'ROY' COLLIER - Bryony Freeman
MARTHA O'REILLY - Katie Byrne
VICTORIA 'MINNIE' O'REILLY – Daisy Williams
NANCY – Ailish Field
VIOLET – Ella Cornish
ARNOLD – Kaitlin Field
PERCY – Ella Mucha
CLARA – Tilly Luxton
BERTHA – Beth Blake
Crew
THE BATTLE OF BOAT
- CREW LIST
Producer - Sophie Wieprecht
Creative Director - Scott Wieprecht


Sound Designer - Derek Pearce
Lighting Designer - Scott Wieprecht
Pictures
PICTURES
Stage Stars has now moved all pictures from previous show, events and trips to one main gallery for ease of use and to make the ever growing library of images more managable. The benefits of this are:
*All pictures can be viewed at the same time without having to go to each different show page
*Pictures can all be formatted in the same way and quality improved
*We can add new galleries such as rehearsals and your pictures easily
*You can upload your own pictures for us to include in the gallery
*We can help protect our members images and restrict downloading of pictures
To view our show pictures please use the menu above and select galleries. You can also purchase images from all our shows at our dedicated show shop www.mediabooth.co.uk.
Downloads
DOWNLOADS
With the hundreds of previous show downloads, including pictures, programmes, and music, along with all our newsletters, information and general downloads, we have made the decision on our new site to move all our downloads in to one place. To access our downloads section, along with a number of other extra features, you need to be a member of Stage Stars. Then, just click on the 'Back Stage' menu option above to login, and view a special area of our website, especially for you.
Press
PRESS RELEASES
All our press releases and articles about us that have appeared in the paper are now all in one place. To access them, use the "About Us" menu above, and click on Press Centre.