THESEUS
To find out more information from our show archives, please use the links below.
Poster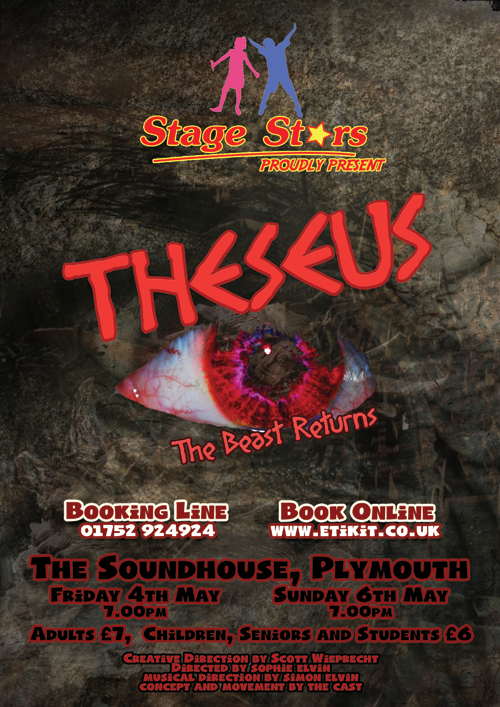 Synopsis
THESEUS - SYNOPSIS
Once upon a time, a long time ago, there lived a king named Minos. King Minos lived on a lovely island called Crete. King Minos had a powerful navy, a beautiful daughter, and a really big palace. Still, now and then, King Minos grew bored.
Whenever King Minos was bored, he took his navy and attacked Athens, a town on the other side of the sea. In desperation, the king of Athens offered King Minos a deal. If Minos would leave Athens alone, Athens would send seven Athenian boys and seven Athenian girls to Crete every nine years to be eaten by the Minotaur.
The Minotaur was a horrible monster that lived in the center of a huge maze on the island of Crete. King Minos loved that old monster. He did like to give his monster a treat now and then. He knew his people would prefer he fed his monster Athenian children rather than ... well, after thinking it over, King Minos took the deal.
Theseus tells the story of what happened after this ill thought out deal...
Music
THESEUS - MUSICAL NUMBERS
Act 1 
1. Every Year 
2. King Of The People 
3. I'm Theseus
4. Who Are You? 
5. A Father's Love 
6. Let's Go In A Different Direction 
7. Finding My Way
8. The Shape Of Things To Come 
9. Warning III 
10. Does He Know What He's Doing? 
11. What If I Fail? 
12. Every Year (Reprise) 
13. The Trouble With Arrogance 
14. I Don't Fear You 
15. Warning IV



 
 

Act 2
16. Nothing Left To Give 
17. Long Live King Theseus 
18. You're The One 
19. The Trouble With Promises 
20. Raise The Sail (We're Gonna Be Heroes) 
21. Warning V 
22. Learning The Hard Way 
23. What Kind Of King 
24. Falling Down 
25. Finale
Cast
THESEUS - CAST LIST
Pirithous – 
Ariadne – 
Theseus – 
King Minos – 
King Aegeus – 
Queen Aegeus – 
Nilos – 
Zarek – 
Crew
THESEUS - CREW LIST
Producer - Scott Wieprecht
Director - Sophie Elvin
Choreographer - Scott Wieprecht
Musical Director - Simon Elvin
Stage Manager - Dawn Pearse
Stage Team - Derek Pearse
Pictures
PICTURES
Stage Stars has now moved all pictures from previous show, events and trips to one main gallery for ease of use and to make the ever growing library of images more managable. The benefits of this are:
*All pictures can be viewed at the same time without having to go to each different show page
*Pictures can all be formatted in the same way and quality improved
*We can add new galleries such as rehearsals and your pictures easily
*You can upload your own pictures for us to include in the gallery
*We can help protect our members images and restrict downloading of pictures
To view our show pictures please use the menu above and select galleries. You can also purchase images from all our shows at our dedicated show shop www.mediabooth.co.uk.
Downloads
DOWNLOADS
With the hundreds of previous show downloads, including pictures, programmes, and music, along with all our newsletters, information and general downloads, we have made the decision on our new site to move all our downloads in to one place. To access our downloads section, along with a number of other extra features, you need to be a member of Stage Stars. Then, just click on the 'Back Stage' menu option above to login, and view a special area of our website, especially for you.
Press
PRESS RELEASES
All our press releases and articles about us that have appeared in the paper are now all in one place. To access them, use the "About Us" menu above, and click on Press Centre.