SEIZE THE DAY
To find out more information from our show archives, please use the links below.
Poster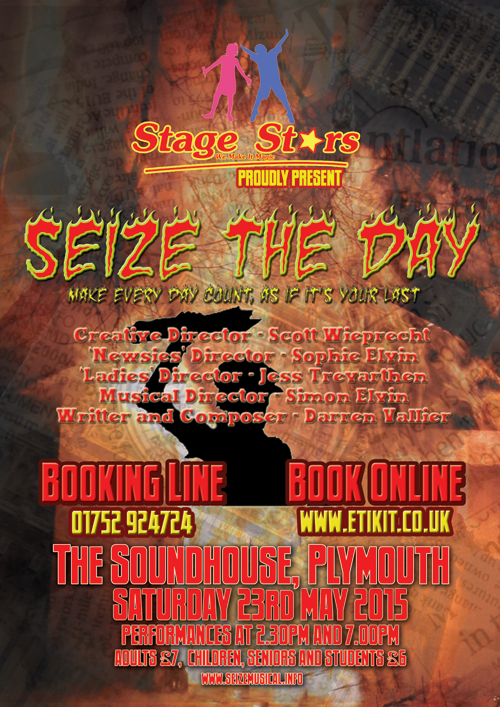 Synopsis
SEIZE THE DAY - SYNOPSIS
A musical first seen at The Cafe Royal, London and premiered in Brighton. Rich in characters and songs, this dramatic story is set at the time of newspaper strikes and poverty stricken London.
Music
SEIZE THE DAY - MUSICAL NUMBERS
Act 1

Carpe Diem
London Town
If I Could Learn to Live Again
Evil Come, Evil Go
Mrs Sunggs....What a Woman
Don't Be Afraid
In for a Penny, In for a Pound
I Might Not Be Here
Our Day Will Come

 

 
 

Act 2

The Price That You Pay
Learn to Live Again / Don't Be Afraid
A Quiet Life
Why Did I Let You Go?
Something to Believe In
Take One By One
Corner of My Dream
You're My Second Chance
I Will Find Her
Seize the Day
Cast
SEIZE THE DAY - CAST LIST
TBC
Crew
SEIZE THE DAY - CREW LIST
Producer - Scott Wieprecht
Director - Sophie Wieprecht
Musical Director - Simon Elvin
Stage Manager - Dawn Pearce
Technical Director - Derek Pearce
Pictures
PICTURES
Stage Stars has now moved all pictures from previous show, events and trips to one main gallery for ease of use and to make the ever growing library of images more managable. The benefits of this are:
*All pictures can be viewed at the same time without having to go to each different show page
*Pictures can all be formatted in the same way and quality improved
*We can add new galleries such as rehearsals and your pictures easily
*You can upload your own pictures for us to include in the gallery
*We can help protect our members images and restrict downloading of pictures
To view our show pictures please use the menu above and select galleries. You can also purchase images from all our shows at our dedicated show shop www.mediabooth.co.uk.
Downloads
DOWNLOADS
With the hundreds of previous show downloads, including pictures, programmes, and music, along with all our newsletters, information and general downloads, we have made the decision on our new site to move all our downloads in to one place. To access our downloads section, along with a number of other extra features, you need to be a member of Stage Stars. Then, just click on the 'Back Stage' menu option above to login, and view a special area of our website, especially for you.
Press
PRESS RELEASES
All our press releases and articles about us that have appeared in the paper are now all in one place. To access them, use the "About Us" menu above, and click on Press Centre.