Dance Teacher / Choreographer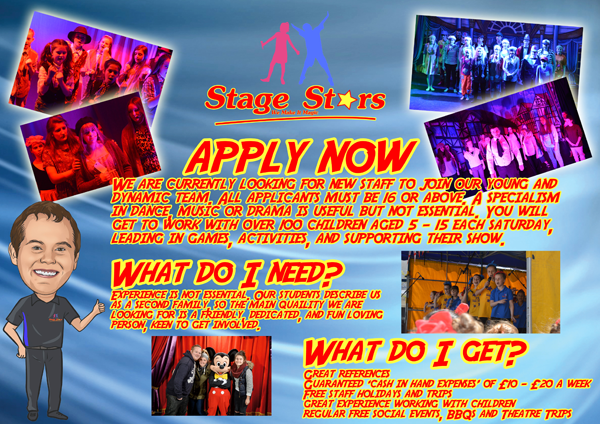 We are delighted to be able to once again offer the opportunity for a gifted, talented and passionate student of dance to gain the experience of teaching young people aged 4+ to dance, as part of a popular stage school.
Teaching experience is not necessary. The main quality we are looking for it dedication and passion for the role.
Whilst the successful applicant will get little monetary reward (we pay a minimum weekly expense payment of £10) you will get very strong references, which will make you stand out if applying for any Stage School or Teaching Role. The staffing team are hugely social and a variety of free trips to the theatre, as well as day trips and holidays are available through the year. Great experience teaching students, and seeing your dances on stage during our four show weeks throughout the year.
If you have any questions, please do not hesitate to email This email address is being protected from spambots. You need JavaScript enabled to view it. to ask questions, or contact our Facebook account Stage Stars. Please also visit our website, www.stagestars.net for more information about us.
Applications can be made by visiting: www.stagestars.net/consultation/