ALADDIN
To find out more information from our show archives, please use the links below.
Poster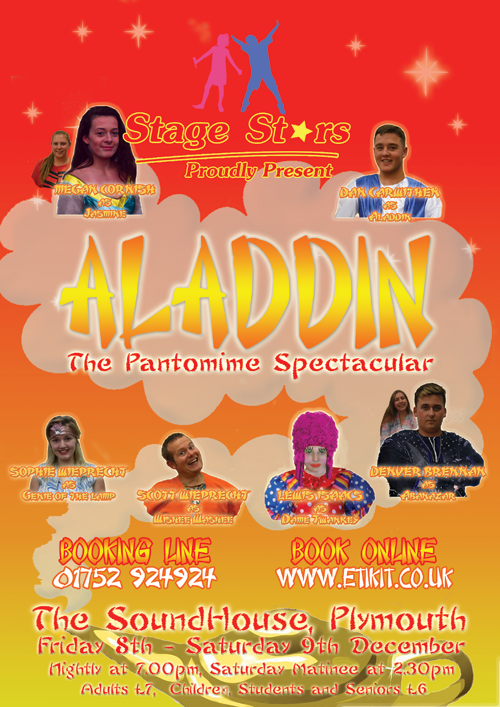 Synopsis
ALADDIN - SYNOPSIS
The tale of Aladdin and his Lamp is more wonderful then a thousand Arabian nights and now its back with some all new twists. As the evil Abanazar begins his journey to find the boy pure of heart to open the cave Aladdin is busy falling in love with princess Jasmin. When his uncle turns up therefore to offer him the chance to get all the riches he could ever want Aladdin cant refuse. After being led inside the cave by Abanazar he refuses to give him the lamp and so he is trapped inside and left.
With some help from the Slave of the Ring and the audience Aladdin rubs the lamp and finds to his amazement a Genie lives in it who can grant anything his heart desires. In Act 2 we catch up with Abanazar who begins telling Aladdin's mother Twankey that he has died but Aladdin returns and scares away his eveil uncle. After marrying the princess they move in to their own palace and once Twankey and Wishee have finished their disasterous decoration job and getting very messy Abanazar returns to get the lamp.
He also captures princess Jasmin and when Aladdin is caught trying to rescue her - after a humourous wolf scene - and taking to Abanazar. It looks like evil will triumph but then with the help of the audience can Aladdin win through...
Music
ALADDIN - MUSICAL NUMBERS
Act 1 
1. A Cinderella Story
2. I Gotta Feeling
3. Somebody To Love
4. Fine, Fine Line
5. Footloose
6. It Must Be Love
7. Somewhere Out There
8. Keep Smiling

9. One Moment In Time

 
 

Act 2
10. Flashdance
11. For Good
12. Written In The Stars
13. This Is Me
14. Holding Out For A Hero
15. All For One
16. I'm A Believer
Cast
Cast List
Aladdin                                             Ro Ruth
Jasmine                                            Ella Drummond
Widow Twankey                                 Shannon Pearce
Wishee Washee                                 Scott Wieprecht
Abanazar                                          Scarlett Smith
Won Tun                                           India O'Neil
Slave Of The Ring                              Lexi Luscombe
Genie Of The Lamp                            Sophie Wieprecht
Empress                                            Isla
Dilly                                                   Elise Wilkins
Dally                                                  Isla Willis
Deli                                                    Evie Matthews
Dolly                                                  Grace Lilley
Dopey                                                Alfie
Dippy                                                 Kyla Corden
Ah                                                     Sophie Peonides
Cha                                                   Anya Wilkins                                              
Narrator                                             Isla Fisher
Ghost                                                Pheobe Peonides
Henchman                                      
Villagers
Spook                                               
Dance Troop
Crew
ALADDIN - CREW LIST
Producer - Scott Wieprecht
Director - Sophie Wieprecht
Stage Manager - Dawn Pearce
Technical Director - Derek Pearce
Pictures
PICTURES
Stage Stars has now moved all pictures from previous show, events and trips to one main gallery for ease of use and to make the ever growing library of images more managable. The benefits of this are:
*All pictures can be viewed at the same time without having to go to each different show page
*Pictures can all be formatted in the same way and quality improved
*We can add new galleries such as rehearsals and your pictures easily
*You can upload your own pictures for us to include in the gallery
*We can help protect our members images and restrict downloading of pictures
To view our show pictures please use the menu above and select galleries. You can also purchase images from all our shows at our dedicated show shop www.mediabooth.co.uk.
Downloads
DOWNLOADS
With the hundreds of previous show downloads, including pictures, programmes, and music, along with all our newsletters, information and general downloads, we have made the decision on our new site to move all our downloads in to one place. To access our downloads section, along with a number of other extra features, you need to be a member of Stage Stars. Then, just click on the 'Back Stage' menu option above to login, and view a special area of our website, especially for you.
Press
PRESS RELEASES
All our press releases and articles about us that have appeared in the paper are now all in one place. To access them, use the "About Us" menu above, and click on Press Centre.