ANNIE
To find out more information from our show archives, please use the links below.
Poster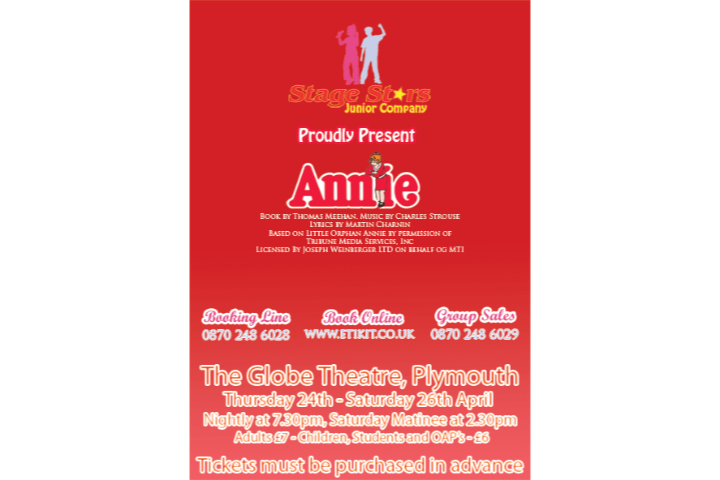 Synopsis
ANNIE - SYNOPSIS
Due to the cruel orphanage matron, Miss Hannigan, Annie, a spunky, redheaded orphan, decides to run away and find her parents. After, eventually managing to escape the orphanage, she ends up being sent back by Officer Ward of the NYPD. Soon though, her luck improves. Billionaire Oliver Warbucks decides to invite an orphan over to his house for Christmas and Annie is chosen. The two quickly hit it off and he agrees to help Annie find her parents by putting up a $50,000 reward.
Miss Hannigan's brother, Rooster, and his girlfriend, Lily, pretend to be Annie's parents by using information provided by Miss Hannigan. At the last minute, President Roosevelt intervenes to announce that the FBI has discovered that Annie's parents are in fact, dead. In the end, Hannigan, Rooster, and Lily are all arrested and Annie is adopted by Warbucks.
Music
ANNIE - MUSICAL NUMBERS
Act 1 
1. Overture
2. Maybe
3. Annie 
4. Hard Knock Life 
5. Tomorrow 
6. Hooverville 
7. Little Girls 
8. I Think I'm Gonna Like It Here 
9. N.Y.C. 

 
 
Act 2
10. Easy Street 
11. You Won't Be An Orphan For Long 
12. You're Never Fully Dressed Without A Smile 
13. Cabinet - Tomorrow 
14. Something Was Missing 
15. I Don't Need Anything But You 
16. A New Deal for Christmas
Cast
ANNIE - CAST LIST
Annie - Laura Eden 
Grace Farrell - Scarlett Pannell 
Daddy Warbucks - Scott Wieprecht 
Miss Hannighan - Siobhan Loveless 
Rooster - Max Pannell 
Lily - Jessica Morcom
Drake - Nathan Leung
President Roosevelt - Jack Best
Bundles - Lewis Bladden
Crew
ANNIE - CREW LIST
Producer - Scott Wieprecht
Director - Mike Hooper
Choreographers - Victoria Hobbs with Scott Wieprecht 
Musical Director - Katya Padlyevska with Rich Earley
Stage Manager - Richard Wieprecht
Lighting Designer - Scott Wieprecht
Pictures
PICTURES
Stage Stars has now moved all pictures from previous show, events and trips to one main gallery for ease of use and to make the ever growing library of images more managable. The benefits of this are:
*All pictures can be viewed at the same time without having to go to each different show page
*Pictures can all be formatted in the same way and quality improved
*We can add new galleries such as rehearsals and your pictures easily
*You can upload your own pictures for us to include in the gallery
*We can help protect our members images and restrict downloading of pictures
To view our show pictures please use the menu above and select galleries. You can also purchase images from all our shows at our dedicated show shop www.mediabooth.co.uk.
Downloads
DOWNLOADS
With the hundreds of previous show downloads, including pictures, programmes, and music, along with all our newsletters, information and general downloads, we have made the decision on our new site to move all our downloads in to one place. To access our downloads section, along with a number of other extra features, you need to be a member of Stage Stars. Then, just click on the 'Back Stage' menu option above to login, and view a special area of our website, especially for you.
Press
PRESS RELEASES
All our press releases and articles about us that have appeared in the paper are now all in one place. To access them, use the "About Us" menu above, and click on Press Centre.