PORRIDGE
To find out more information from our show archives, please use the links below.
Poster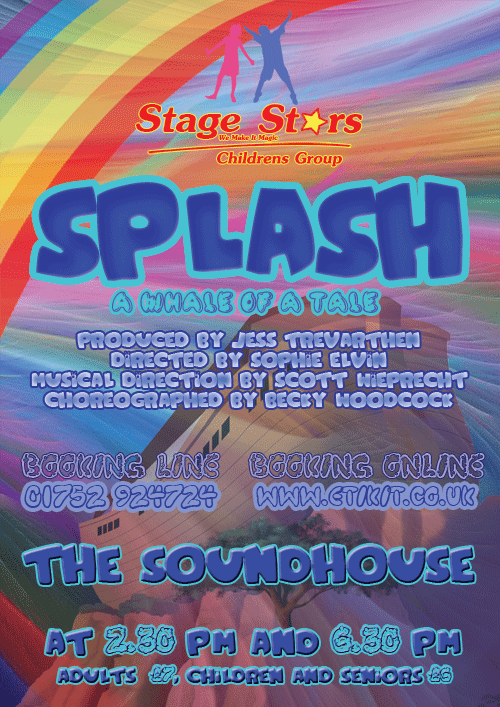 Synopsis
PORRIDGE - SYNOPSIS
In the prologue our moody, mysterious narrator Jack Spratt, Private Detective, introduces himself and explains how crime has swept through Happy Valley. Dramatic music begins as the stage suddenly becomes an exciting whirl of frantic activity with a police squad in hot pursuit of an unknown criminal. Two reporters bring us the latest news of crime on the streets whilst a crowd of anxious onlookers gather and begin to sing the opening song, "Once Upon A Crime!".
The song ends and we are transported to Jack Spratt's office, where Jack calls the Police Chief about a recent case. Goldie Locks enters with a suitcase and, following a very comical set of misunderstandings, explains to Jack that she is in desperate need of his help. As she begins to tell Jack her story, a flashback transports us in space and time to the previous morning at The Dairy.
We discover the absent-minded Mother Hubbard who has once again lost her only cow, Marigold. Goldie enters and reminds Mother Hubbard that she is always losing things, such as her precious recipe book that went missing years ago. Simple Simon enters and he and Goldie unsuccessfully try to comfort Mother Hubbard. All are relieved when the local fairytale characters find and return the wandering cow to the dairy. Following a slapstick milking session, Tom-Tom arrives with a pig under his arm and the police in pursuit. Simon hides Tom-Tom just as the inept police squad enter. Pompous Inspector Drain interrogates the locals and with a little bribery discovers and arrests the innocent Tom-Tom.
Our two reporters return with live coverage of the reopening of The Porridge Pot Diner, Happy Valley's finest restaurant. The staff and customers give a rousing reception to owner Papa Bear, his wife Mama Bear and their son Junior, and celebrate by singing "The Porridge Pot". Goldie enters and chats with her friend Junior, who expresses his frustration that although he wants to be an inventor, his father expects him to work in the "family business". The Bear family are interviewed by the reporter and the scene ends with a rousing reprise of "The Porridge Pot".
Jack Spratt then takes us to the Porridge Pot's back room, where Papa Bear has a secret meeting with his half-witted henchmen, the Billy Goat brothers. It becomes clear that these furry felons are behind the recent crime wave, all part of Papa Bear's evil plan to flatten Happy Valley, build a giant Porridge Factory and take over the world! He gives them a list of crimes to commit and people to frame, along with a suitcase of cash to pay the lumberjacks to flatten the forest. He also reveals his secret suitcase full of evil plans - and Mother Hubbard's recipe book that he stole from her years ago which helped him build his restaurant and porridge empire.
Down at the Police Station, Inspector Drain is expressing his frustration over the recent crime wave and his squad's lack of policing skills. PC Plod is more interested in his suitcase of nuts which he proudly displays to everyone. An emergency call informs them that Humpty has been involved in a horrific wall related incident. The action moves immediately to Hickory Hospital, where Humpty is operated upon by Doctor Foster and Nurse Polly in a brief but hilarious medical drama. We switch straight back to the Police Station where we learn that Humpty was pushed. Bo Peep enters to report stolen sheep, and a comical identity parade leads the police to arrest the wrong suspect. Peter Piper is questioned about stealing pickled peppers, and in the face of all this crime Inspector Drain tells his squad it is time to spring into action. The ensemble enter to sing the comedy action song "Boys In Blue".
The following cold and frosty morning at the Mulberry Bush, Jack is on the watch for suspicious activity. Sure enough, the Billy Goats enter having kidnapped Marigold the cow. Papa Bear enters for another secret meeting but is overheard by his son Junior, who is horrified to discover the truth behind the family business. The lumberjacks enter and, after displaying their tree-felling skills, are hired by the Billy Goats who tell them to collect a suitcase of cash from The Porridge Pot at midnight. Mother Hubbard and Simon are searching for missing Marigold when Goldie brings them the ransom note she has found and vows to pack her case and go searching for Marigold. Simon tells Mother Hubbard to be positive and he and the ensemble cheer her up with the song "It's Up To You".
Later that evening we find a sad and reflective Junior Bear wondering how to deal with the truth about his father and why he cannot be who he wants to be. We also find Goldie who, too, dreams to be more than she is, and together they sing the touching duet "While The World Is Sleeping". At the end of the song, the two friends meet and tell each other everything. Junior hatches a plan and returns to The Porridge Pot whilst Goldie, suitcase in hand, goes to the office of Jack Spratt—and we suddenly find ourselves back at the very point where the story started. Goldie explains that Junior will leave his father's suitcase of incriminating secret plans at the restaurant for them to discover, and she and Jack set off to save the day.
Back at the Porridge Pot, the bears' evening porridge appears to be too hot to eat. Junior cleverly suggests they leave for a long, slow night time walk whilst it cools and as they leave he positions his father's secret suitcase for Goldie to discover. During a fast paced farce-like scene, various groups of characters enter and leave the restaurant with other suitcases of clothes, cash and nuts, each getting mixed up with the others. In a faithful nod to the traditional tale, the three bowls of porridge are tasted, Junior's chair is broken and Goldie is accidentally knocked unconscious, leaving her lying on the floor asleep and snoring loudly. When the bears return, they discover Goldie and call the police who arrive instantly to arrest her. However, the other groups enter one by one revealing the surprising contents of each suitcase. When the Billy Goats accidentally reveal the truth, Papa Bear denies all, but Junior finally finds his voice and courageously speaks up against his father. Mother Hubbard is reunited with her cow and recipe book and at last the police arrest the true criminal, Papa Bear. With a final word from Jack Spratt, the story is brought to a joyful conclusion as the ensemble sing the exciting finale song "Happy Ever After".
Music
PORRIDGE - MUSICAL NUMBERS
Act 1 
1. Once Upon a Crime
2. The Porridge Pot
3. The Porridge Pot (reprise)
4. I'm Not As Bad As They Paint Me
5. So Much More 



 

 
 

Act 2

6. Brand New Day
7. Boys In Blue
8. It's Up To You
9. While The World Is Sleeping
10. Happy Ever After 
Cast
PORRIDGE - CAST LIST
Jack Spratt: Abby Wills
Papa Bear: Megan Cornish
Chief Inspector Drain: Gemma Kerr
Goldie Lox: Katie Byrne
Mother Hubbard: Ailish Field
Junior Bear: Lewis Isaacs
Little Bill: Jess Peek
Simple Simon: Jasmine Stewart
PC Plod: Bethany Blake
Big Bill: Gracie Gardiner
Mama Bear: Kelsie Palfrey
Middle Bill: Daisy Stephens
Dwayne Pipe: Brooke Roberts
PC Doughnut: Jasmine May
PC Fuzzbut: Grace Hayward
Rusty Hairclips: Amy Rowe
PC Flatfoot: Lily Mae-Stock
Nurse Polly: Aimee Field
Woody: Isobel May
Tom-Tom: Kaitlin Field
Peter Piper: Libby Oakes
Doctor Foster: Lily Perryman
Bo Peep: Rachel Langdon
Humpty Dumpty: Poppy Moore
Pip The Paperboy: Ruby Brooks
Miss Muffet: Ella Cornish
Wee Willie Winky: Amelia Middleton-Nunn
Roxy: Chloe Byrne
Ruby: Daniella Nieto
Ruthie: Olivia Nieto
Renee: Freya Pearson
Rosie: Ruby Rose
Rita: Scarlotte Smith
Rhonda: Sophia Stewart
Robyn: Charlotte Williams
Twiggy: Lucy Denslow
Splinter: Georgia-Jo Griffiths
Chopper: Emily Heleas
Barker: Sophie Harris
Timber: Lily Pearce
Plank: Ellie Pearce
Chip: Sian Roscorla
Stump: Grace Lee
Loggy: Sienna Hodgson
Stemmy: Lola
Stiggy: Katie Elvin
Cow: Summer Hamblin and Rosina Ruth
Crew
PORRIDGE - CREW LIST
Producer - Scott Wieprecht
Director - Jessica Trevarthen
Musical Director - Scott Wieprecht
Choreographer - Sophie Elvin and Becky Woodcock

Lighting Designer - Scott Wieprecht
Sound Designer - Joe Pollard
Pictures
PICTURES
Stage Stars has now moved all pictures from previous show, events and trips to one main gallery for ease of use and to make the ever growing library of images more managable. The benefits of this are:
*All pictures can be viewed at the same time without having to go to each different show page
*Pictures can all be formatted in the same way and quality improved
*We can add new galleries such as rehearsals and your pictures easily
*You can upload your own pictures for us to include in the gallery
*We can help protect our members images and restrict downloading of pictures
To view our show pictures please use the menu above and select galleries. You can also purchase images from all our shows at our dedicated show shop www.mediabooth.co.uk.
Downloads
DOWNLOADS
With the hundreds of previous show downloads, including pictures, programmes, and music, along with all our newsletters, information and general downloads, we have made the decision on our new site to move all our downloads in to one place. To access our downloads section, along with a number of other extra features, you need to be a member of Stage Stars. Then, just click on the 'Back Stage' menu option above to login, and view a special area of our website, especially for you.
Press
PRESS RELEASES
All our press releases and articles about us that have appeared in the paper are now all in one place. To access them, use the "About Us" menu above, and click on Press Centre.