SPLASH!
To find out more information from our show archives, please use the links below.
Poster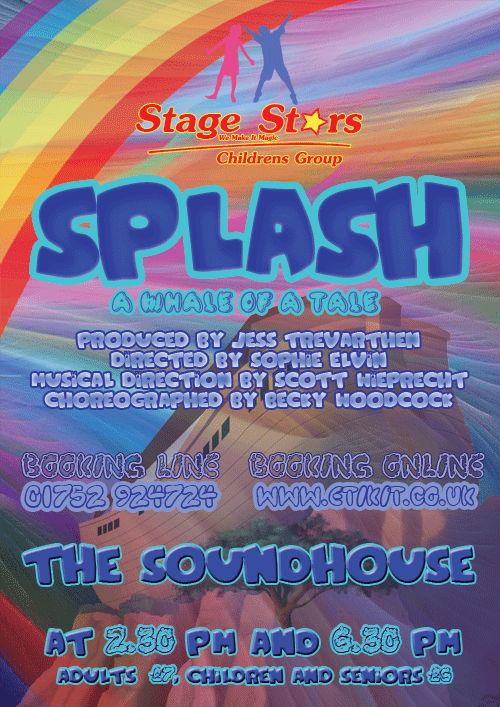 Synopsis
SPLASH! - SYNOPSIS
'Life is a Magical Journey' opens the play as Preston the Parrot sets the scene on a busy ship as he prepares to set sail with his passengers. A flashback follows as the audience then learn how Preston came to end up as captain of a ship full of animals...

It all started when Preston received a telegram from his Captain who warned him that the world was going to end with forty days and forty nights of rain and it was down to Preston to save everyone. Unfortunately, the hardest part for Preston would not be building the ship, but persuading everyone to take him seriously!

His first challenge is to persuade Joan and George Giraffe that the world is about to end but unfortunately they are both set on practising their ballroom dance so are too busy to take Preston seriously! His following visit to Bruce and Sheila isn't successful either as they are relaxed about the situation and merely decide to cancel their barbeque!

Eventually Preston comes up with a crafty idea to tell his friends that they have all won tickets for a luxury cruise in order to get them all on board the ship safely before the rain starts; 'Two by Two' follows as he hands out the tickets.

However unbeknown to Preston, a group of rats sneak on board and plan to enjoy the luxury cruise by eating all the food but before they can start their feast they are interrupted by the Cabin Crew, a group of seagulls, who enjoy excluding Malcolm the Penguin and giving him all the nasty cleaning jobs.

Yet there isn't time for arguments as the passengers are welcomed aboard their 'luxury cruise' during 'In A Floating Zoo.' However below decks the rats are busy welcoming themselves as they plan to scavenge as much food as they can find! Meanwhile Antonio and Adriana Armadillo are up to mischief of their own as they enter chatting secretly describing themselves as the world's most suspicious spies! 

Things then begin to deteriorate as the passengers get restless with the constant rain and Preston begins to panic about telling them the truth and decides to throw a party to get everyone in good spirits before he shares his big secret. Unfortunately for him, Harry and Scab the rats overhear him and decide to spread the news for him! 

However the party lacks any spirit and events spiral downhill as two passengers are about to give birth. Luckily, after two cork popping sounds the babies appear happy and healthy and the party can get underway during 'Everybody Monkey Around.' Yet the party spirit doesn't last long as a note is discovered from the rats who have taken Polly Parrot hostage and won't give her back until Preston hands over command of the ship; Preston's secret is out and he has lost his wife! 'When Life Was Good' follows as the passengers reminisce. However the peace is interrupted by the rats entering with Polly, but after a quick and painless battle the passengers emerge victorious and they understand why Preston tricked them and forgive him.

Yet the peace doesn't last long as it is discovered that Mrs Dodo has fallen overboard! Luckily, Malcolm comes to the rescue and after a heroic display the Cabin Crew decide to promote him and give him a white uniform that he has desired for so long! 'Blue Skies Ahead' is sung by everyone as they share feelings of optimism and just as things seem like they can't get any better, the skies turn to blue and 'When A Rainbow Fills The Sky' ends the show.
Music
SPLASH! - MUSICAL NUMBERS
Act 1 
1. Life Is A Magical Journey
2. Two By Two
3. In A Floating Zoo
4. Everybody Monkey Around



 

 
 

Act 2

5. When Life Was Good
6. Blue Skies Ahead
7. When A Rainbow Fills The Sky
8. Bows/Blue Skies Ahead (Reprise)
Cast
SPLASH! - CAST LIST
The Parrots
Preston Parrot
Polly Parrot


The Crew
Pierre Pusé
Malcolm Penguin
Cedric Seagull
Cecil Seagull
Seymour Seagull
Simon Seagull


The Pie Rats
Crusty Scab
Dribble
Belch
Snot
Bogies
Widdle
Puke
Whiff
Plop
Harry Tosis


The Passengers
George Giraffe
Joan Giraffe
Antonio Armadillo
Adriana Armadillo
Bruce Kangaroo
Sheila Kangaroo
Hal Hippo
Hattie Hippo
Mickey Monkey
Mindy Monkey
Lenny Lion
Lola Lion
Derek Dodo
Dotty Dodo
Bert Bunny
Belinda Bunny
Max Mouse
Martha Mouse


The Babies
Bobby Bunny
Billy Bunny
Benny Bunny
Bernie Bunny
Max Mouse
Martha Mouse
Twitch Mouse
Sniff Mouse
Bubble Mouse
Squeak Mouse
Crew
SPLASH! - CREW LIST
Producer - Scott Wieprecht
Director - Jessica Trevarthen
Assistant Director - Sophie Elvin 
Choreographer - Becky Woodcock

Lighting Designer - Scott Wieprecht
Sound Designer - Luke Pollard
Pictures
PICTURES
Stage Stars has now moved all pictures from previous show, events and trips to one main gallery for ease of use and to make the ever growing library of images more managable. The benefits of this are:
*All pictures can be viewed at the same time without having to go to each different show page
*Pictures can all be formatted in the same way and quality improved
*We can add new galleries such as rehearsals and your pictures easily
*You can upload your own pictures for us to include in the gallery
*We can help protect our members images and restrict downloading of pictures
To view our show pictures please use the menu above and select galleries. You can also purchase images from all our shows at our dedicated show shop www.mediabooth.co.uk.
Downloads
DOWNLOADS
With the hundreds of previous show downloads, including pictures, programmes, and music, along with all our newsletters, information and general downloads, we have made the decision on our new site to move all our downloads in to one place. To access our downloads section, along with a number of other extra features, you need to be a member of Stage Stars. Then, just click on the 'Back Stage' menu option above to login, and view a special area of our website, especially for you.
Press
PRESS RELEASES
All our press releases and articles about us that have appeared in the paper are now all in one place. To access them, use the "About Us" menu above, and click on Press Centre.