NEVERLAND
To find out more information from our show archives, please use the links below.
Poster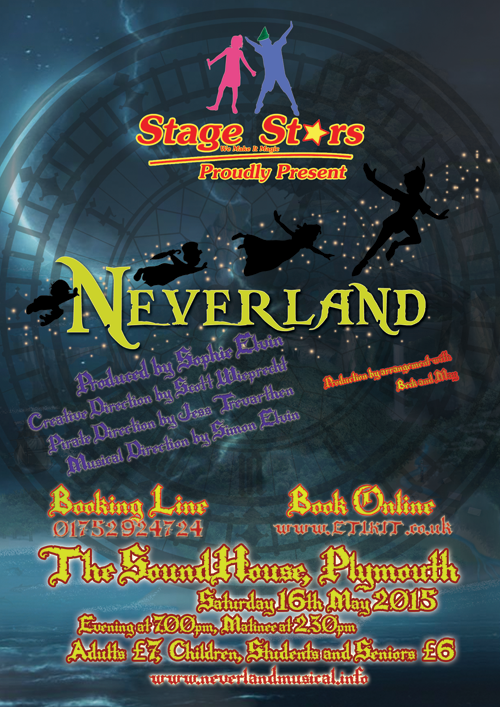 Synopsis
NEVERLAND - SYNOPSIS
The Great Plague 1655. A small farming village on the outscrits of London faces a harrowing decision as the first signs of the Plague threaten their idyllic life. When the villagers are forced to quarantine their children on a nearby hill to protect them from the terrible disease, the children become a community in their own right whilst the families they leave behind anticipate a reunion that in some cases will never come.
This will be only its third visit to the South West and Stage Stars are pleased to be given the opportunity to offer their students the chance to take part in a relatively new piece of musical theatre.
Music
NEVERLAND - MUSICAL NUMBERS
Act 1 
1. They Will Be Who They Will Be 
2. Where Are You Now?
3. A Little Bit Of Spit 
4. Falling Down
5. Dig Another Hole 
6. Try 
7. Where's My Dinner?
8. See This Plague 
9. Goodnight Children 
10. Let Them Cry

 
 

Act 2
11. Still Hear The Sound Of The Bells 
12. Falling Down (Reprise)
13. Let The River Flow 
14. Have Another Drink
15. We'll Keep Running 
16. Letting Go
17. I'll Be Here Waiting For You 
18. If Only For The Children 
19. Falling Down 
20. Try
21. Let The River Flow
Cast
NEVERLAND - CAST LIST
Peter: 
Crew
NEVERLAND - CREW LIST
Producer - Sophie Elvin
Creative Director - Scott Wieprecht
Assistant Director - Jess Trevarthen

Sound Designer - Joe Pollard
Lighting Designer - Scott Wieprecht
Pictures
PICTURES
Stage Stars has now moved all pictures from previous show, events and trips to one main gallery for ease of use and to make the ever growing library of images more managable. The benefits of this are:
*All pictures can be viewed at the same time without having to go to each different show page
*Pictures can all be formatted in the same way and quality improved
*We can add new galleries such as rehearsals and your pictures easily
*You can upload your own pictures for us to include in the gallery
*We can help protect our members images and restrict downloading of pictures
To view our show pictures please use the menu above and select galleries. You can also purchase images from all our shows at our dedicated show shop www.mediabooth.co.uk.
Downloads
DOWNLOADS
With the hundreds of previous show downloads, including pictures, programmes, and music, along with all our newsletters, information and general downloads, we have made the decision on our new site to move all our downloads in to one place. To access our downloads section, along with a number of other extra features, you need to be a member of Stage Stars. Then, just click on the 'Back Stage' menu option above to login, and view a special area of our website, especially for you.
Press
PRESS RELEASES
All our press releases and articles about us that have appeared in the paper are now all in one place. To access them, use the "About Us" menu above, and click on Press Centre.